The Délégation Unédic AGS provides for legal assistance to protect the interests of the salary-guarantee system in all courts, ranging from work tribunals to appeal courts.
An amicable resolution of the case is considered by the AGS whenever possible, allowing
reduce the costs associated with litigation,
accelerate the payment of the employee's claim,
to reduce the liabilities of the company in collective proceedings.
In cases of receivership or judicial liquidation
The AGS appears before employment tribunals under 3 circumstances :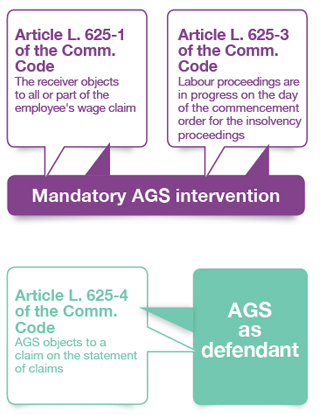 Forced intervention of the AGS
Article L625-1 of the French Commercial Code
The judicial representative contests the wage claim, in whole or in part and does not include it on the statement of wage claims transmitted to the CGEA. In this case, pursuant to article L625-1 of the commercial code, the employee can go directly, under penalty of foreclosure, to the employment tribunal, within a period of two months reckoned from the advertising measure.
Article L.625-3 of the French commercial code
Where proceedings are ongoing at the employment court on the date of initial sentence for the receivership proceedings (receivership or liquidation or where there has been conversion to protection), it is continued in the presence of the judicial representative and administrator. The judicial representative informs, in application of article L.625-3 of the commercial code, within a period of ten days without sanctions, the court and the employees, parties to the proceedings, of the initiation of the receivership.
Article L625-4 of the French commercial code
The law of 26 July 2005 enshrines the specific right of AGS to contest its guarantee by allowing the CGEA to refuse, for any cause whatsoever, to pay a claim listed on a statement of claims resulting from an employment contract.
In this case, and only in this case, the employee may instigate direct action against the AGS and this takes place through the involvement of the judicial representative and the debtor or administrator.
In protection proceedings
The AGS intervenes at the Conseil de Prud'hommes only in the case of disputes resulting from its refusal to take charge of the termination indemnities.
AGS involvement is therefore not automatic in protection proceedings.